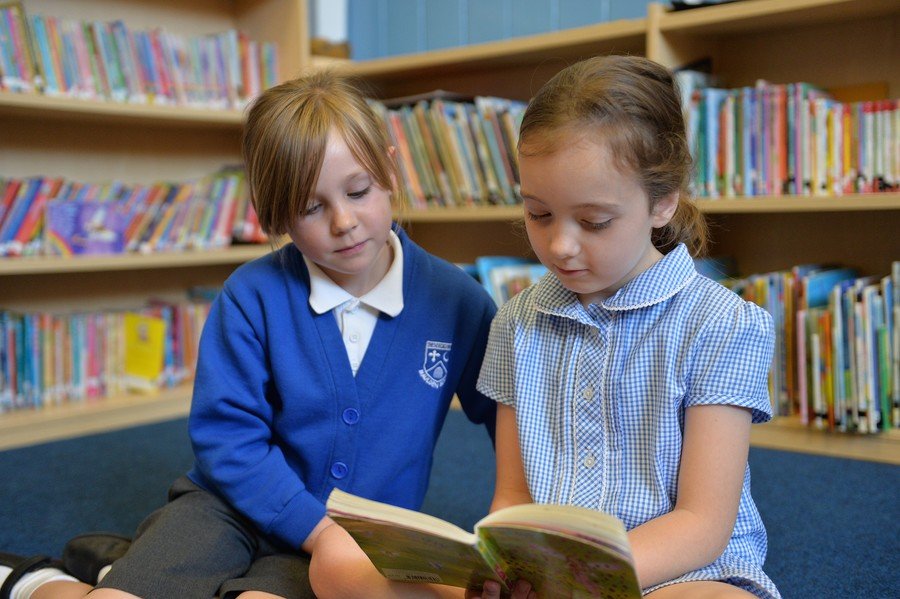 Reading at Maulden Lower School
It is our intent at Maulden Lower School to provide pupils with a high-quality education in English that will teach pupils to speak, read and write fluently so that they can communicate their ideas and emotions to others effectively.
To become an effective reader, children need to develop their skills in two strands of learning - word reading and comprehension.
With regard to word reading, phonics will be emphasised in the early teaching of reading to beginners when they start school. They will receive daily phonics lessons in Reception and Year 1, following the Read, Write Inc scheme. From Year 2 - 4, phonics will be taught in smaller groups to those children who would benefit from closing gaps in their knowledge.
Comprehension is an extremely important skill and pupils at Maulden Lower School will experience high-quality discussion with the teacher, and will read and discuss a range of stories, poems and non-fiction. All pupils will be encouraged to read widely across both fiction and non-fiction to develop their knowledge of themselves and the world in which they live, to establish an appreciation and love of reading, and to gain knowledge across the curriculum.

Our aim is that, when leaving Maulden Lower School, all pupils are able to read fluently, and with confidence, in any subject ready for the next stage of their education.
For more information about the English Curriculum Intent, Implementation and Impact, please go to our English page.
Click here for our Reading Curriculum Map and skills progression.
Reading at home
This is an extremely important part of a child's reading journey. Please see the reading section in our Helping Your Child page in the Parents & Carers area.
Reading Half Hour
At the beginning of every school day, children experience a Reading Half Hour where they are set independent reading tasks which focus on phonics, word reading, comprehension (across different subjects including Maths), fine motor skills and spellings. While the children complete these tasks, the class teacher and teaching assistant will work with individuals or small groups. These adult-led activities may include 1:1 reading, group or guided reading, word probes, phonic recognition and blending, miscues to see if your child is ready to move up to the next reading level. On Friday mornings, we invite parents to come in and hear readers during the Reading Half Hour, between 9am and 9.30am. Sign-up sheets are shared at parent consultation evenings and are available in the office. This is a good opportunity to show children that we all value reading as an enjoyable and important skill.
Special Educational Needs and extra help
At Maulden Lower School, we recognise that all children develop at different rates and we are keen to support them on every step of their learning journey. Children may also have specific learning difficulties, such as dyslexia, that may be diagnosed or un-diagnosed. Here is a list of adaptations that can be made by teachers in all lessons to assist children with reading as required (we do not need to wait for any official diagnosis before trying these methods):
Use texts which reflect interests, inc. non-fiction, particularly for boys.
Use coloured overlays, reading rulers, line guides.
Use peer, adult, or recorded audio support for texts.
Pre-teach subject-specific vocabulary.
Use visual cues to aid recognition.
Present text as clearly as possible. Highlight the main points. Use bullet points.
Use coloured/non-white paper. Use blue/red/green pens on whiteboard. Use coloured/non-white backgrounds on a powerpoint/smartboard screen.
Teach children to understand the five stages of a story's structure. Explicitly teach keywords and their function in linking one idea to another.
In addition to this, we have many interventions in place which can be accessed independently by the child or with peer or adult support. These include, but are not limited to:
Password protected subscription to the Nessy reading and spelling website which provides bespoke learning
Word probes
Extra phonics sessions in small groups
Toe by Toe reading manual
Daily 1:1 reading of school reading book to an adult in school
For further information, please visit the SEND Information Hub on our website under the Parents section.
Latest News
General News Feed
What parental controls can do and how to set them

How to set up new devices safely,
Further Articles »
Latest Diary Dates Events
There are currently no events.
Calendars page(s): Diary Dates >>