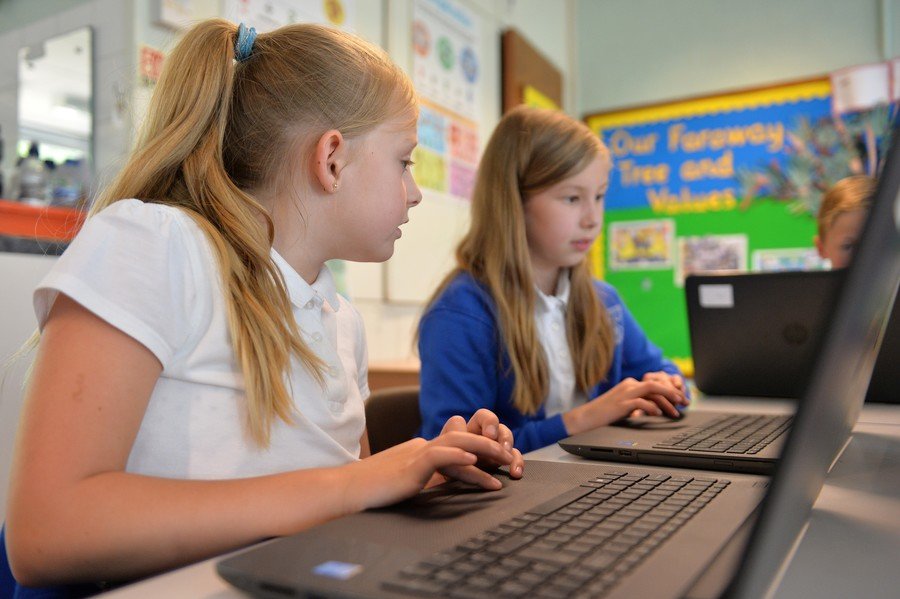 Computing Curriculum Intent
Our aim is to nurture children 'towards a better life' by providing a richly inspiring curriculum, suitable for all. They will be motivated by their school experience to achieve their personal potential in readiness for the next chapter in their lives. We challenge children to strive for academic, creative, sporting and personal accomplishment within a broad and balanced curriculum. Our twelve core Values underpin everything we do within our inclusive school, where diversity is celebrated and children are taught to be members of the local, national and international community.
At Maulden Lower School, in their Computing lessons, children will:
Use computational thinking and creativity to understand and change the world

Develop independent and logical thinking through reasoning, decision making and problem-solving

Make deep links with mathematics, science and design technology

Build knowledge of principles of information and computation, how digital systems work and how to put this knowledge to use through programming

Become digitally literate - able to use, express themselves, develop and present ideas through information and communication technology

Use technology safely, showing care for themselves and others, as well as the devices used
Computing Curriculum Implementation
Children receive weekly Computing lessons and ICT skills are also built into other subjects across the curriculum. At Maulden Lower School, we follow the Somerset New Wessex planning scheme. The key areas of learning for each year group are: Online Safety (digital literacy), Programming (Computer Science), Technology In Our Lives (Computer Science), Handling Data (ICT) and Multimedia (ICT).
Computing Curriculum Impact
Information and communication technology is an integral part of the national curriculum and is a key skill for everyday life. Computers, tablets, programmable robots, digital and video cameras are a few of the tools that can be used to acquire, organise, store, manipulate, interpret, communicate and present information. At Maulden Lower School, we recognise that pupils are entitled to quality hardware and software and a structured and progressive approach to the learning of the skills needed to enable them to use it effectively.
We measure the impact of our Computing Curriculum through:
formative teacher assessment of pupils' achievement
summative assessment at the end of each unit of work
pupil surveys and pupil voice activities
parent surveys
lesson observations
monitoring pupils' work
curriculum reviews
behaviour and attendance
interest in extra curricular activities
Online-Safety
Keeping children safe online is of paramount importance and we cover this regularly in PSHE, computing & other lessons where devices are used lessons in all year groups.
We follow the ActivBytes scheme of work and each year group has the same themes each term.
Autumn Term - I am kind and responsible
Spring Term - I am Safe and secure
Summer Term - I am Healthy
We are visited annually by Open View Education who provide Internet Safety Workshops for our children and our parents.
Click here to vistit our Online Safety page for Parents

Online Safety News
Online Safety
Important information about keeping your child safe when using YouTube Kids

What parental controls can do and how to set them

How to set up new devices safely,
Further Articles »
Latest Diary Dates Events
There are currently no events.
Calendars page(s): Diary Dates >>